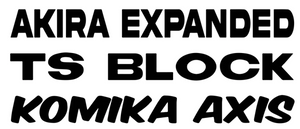 Pick This Font, Not That...
Let's face it.. selecting a font is the most important part of a text decal. Some people like to use my preselected fonts and some like to select a custom one from dafont.com. Either way it's your choice! But keep in mind... not all fonts create great looking decals and here's why.
If you stick to these guidelines then selecting a font will be a breeze. Always add your style to the creation!
---